Carman: The Champion
Theatrical Release:
March 2, 2001
DVD Release:
May 15, 2001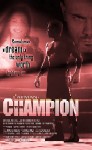 Synopsis
LIMITED RELEASE: GO ONLINE TO http://www.8x.com FOR THEATER LOCATIONS — Orlando Leone (Carman Licciardello) is a former boxer-turned-preacher who left the ring after his father's death but still trains in the gym at his youth center. Orlando's heart is to raise enough money to finish building a church/youth center to help fatherless kids like Cesar Herrera (Romeo Fabian) get off the streets. While working his night job as a security guard for a local hotel, Orlando responds to a noise complaint about a party in the room of Keshon (Jeremy Williams) the current cruiserweight champion. Things get out of control, Orlando knocks the champ out, the press has a field day with the news; and overnight, Orlando's asked to fight the champ for the title. As Cesar's mom Allia (Patricia Manterola) finds herself falling in love with Orlando, he faces his ultimate challenge that tests his faith. His dreams of regaining his title, building his youth center and marrying the woman he loves all depend on this fight.
Dove Review
This is a real winner! A feel-good story with just the right amount of faith and heart! Carman successfully crosses over from the Christian singing world of music videos to deliver a handsome Rocky-type-hero whose real strength is his heart. Carman proves he can be a champion in the ring, but it's his struggle to protect Cesar from dangerous drug-runners and his romantic relationship with Allia that stretches his acting ability outside the ring. The fact that Williams is a professional fighter in real life made the boxing scenes between him and Carman believable and realistic. Director Lee Stanley gives us everything; a little romance, a little gang action along with a deadly car chase, excellent fight sequences, a hero who's real, and a lovable kid. This movie has touching moments, a great soundtrack, and excellent fight scenes, and if parents want to take older kids to see this modern-day-hero, it may make for some great discussion afterwards.
The reason this family-friendly film got a PG-13 rating is the violence. Two gang members force a car chase with Orlando and Cesar, resulting in gunfire and a fiery explosion. There are also a few bloody fight scenes but nothing as messy or grueling as the Rocky movies. Due to the violence and mature themes, the Dove Seal is awarded to this film, but the suggested audience is ages 12 and older. With parental guidance regarding the film's themes, the fatherly relationship that develops between preacher/fighter and cute street kid, along with the feel-good ending, will entertain young and old alike and give all ages something to cheer about.
Info
Company:
Trinity Broadcasting Network