Monkeybone
Theatrical Release:
February 23, 2001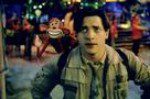 Synopsis
This is a dark comedy about a psychologically troubled cartoonist (Brendan Fraser) with insomnia, who on the eve of a big deal that will make his cartoon character Monkeybone commercially successfully and right before he asks his girlfriend to marry him, gets into a car wreck and goes into a coma. His sleep doctor/girlfriend (Bridget Fonda) stays by his side as Stu goes to cartoon hell.
Dove Review
THE GOOD… This is a colorful, innovative and creative movie, that would have been great entertainment for kids had they removed the sex, violence, language, dark themes about hell, and the perverted monkey. THE NOT SO GOOD…Stu is in a coma for several months and dreams about trips to heaven, hell, the death world, the dream world, etc. During his psychological trips to such places, Stu encounters several strange looking beasts and spooky, evil-looking characters, including a scary grim reaper. Adult issues about sex, commitment, marriage, death, suicide, merchandising, fame, libido, love, heaven and hell are dealt with through this fantasy world. This movie is aimed at the younger crowds who like Fraser and can buy a ticket, but there's no way this movie is for kids, much less most teens or adults. The fact that throughout the movie the cartoon character Monkey Bone is supposed to represent Stu's libido and confront him on his sexual problems, takes the movie and the audience who it's intended for to a whole other level. One that's not worth going to unless you're sexually curious or repressed.
Content Description
Offensive language: Several anatomical references, a few mild obscenities, a few religious profanities, and several insults. Sexual situations: In addition to the abundant sexual innuendoes, references to masturbation and male and female genitalia there are clips of animals having sex on TV, a man and woman grinding into each other, a man dances erotically for a woman and strips down to his underwear. A boy appears to get an erection in class and must cover it with a backpack. A sheet-covered man in a bed lifts up the sheets and looks down at his genitals. A naked man runs around for a while during a party; we see several shots of his bare buttocks, back and chest (but no genitalia are visible). We see the silhouette of a naked woman showering, lots of cleavage and so many offensive scenes I can't mention them all.Violence: A man is hit by a bus. In several scenes a corpse comes back to life has a bruised, dark neck and his stomach is all cut up; in one scene we see the pancreas being pulled out of his body. The same man dangles above the ground from a balloon and an internal organ pops out and lands on a grill, internal organs fall through the open cavity on his chest and a boy catches one and thinks it's a football. A recurring joke is the monkey who has his thumb in his anus and then removes it to let out a cloud of gas and sound come out, one time that spray kills a dog.
Info
Company:
20th Century Fox