The Widow of Saint-Pierre
Theatrical Release:
March 2, 2001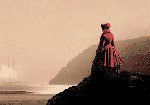 Synopsis
Set in 1850 on the desolate and intensely beautiful island of Saint-Pierre, a remote French territory off the coast of Newfoundland, the story begins with the senseless murder of a man during a drunken altercation. The killer is condemned to death. But in remote Saint-Pierre, there is neither a guillotine nor an executioner. The French government promises to remedy the situation but warns that there will be a long wait since a guillotine must be brought from overseas. (In old French slang, the guillotine was called "the widow.")
During the months that follow, the killer (Emir Kusturica) is placed in the custody of the island's enlightened French military commandant (Daniel Auteuil). The captain's wife (Juliette Binoche), a beautiful and empathetic woman, questions the justice of the death penalty in this particular situation. She believes there is good in the man and that his crime was a terrible mistake brought on by too much drink. Soon, she makes the prisoner her protégé, convinced that he can live out his remaining time productively and be redeemed by his good deeds. In time, the Captain shares his wife's compassion and faith in the prisoner.
Little by little, with the help of his benefactress, the condemned man grows indispensable to this tiny community, his noble and heroic acts, including a dramatic rescue, cause him to become the most popular man on the island. Only a handful of bureaucrats resent this man's new status. Determined to uphold the law, even if the law is wrong, they scheme to punish the murderer and his supporters.
Dove Review
The film is about compassion and the realization that a man can change, given the proper environment and concern. It is emotional, always engaging, extremely well acted and contains Shakespeare-like romantic/tragic elements rarely depicted in recent films. Your enjoyment level of this film, however, may depend on your view of capital punishment. You will no doubt find the filmmaker's prospective worthwhile if you argue that a murderer should be spared the death penalty, leaving the final judgment to God after first spending a lifetime behind bars. These people are hoping that the criminal will find salvation and use his altered lifestyle to help others behind bars. However, if you believe that the Old Testament's eye-for-an-eye teaching should remain in force, then the film may seem altruistic. I'll just keep my personal opinion to myself.
Content Description
Language: Christ 1, S-word 1, expletives 7 – Sex: 1 implied sexual situation; 1 sexual situation between a married couple, with brief nudity from a distance; Violence: a man is killed by a knife; another man is killed by the actions of an unruly mob; a man is executed by a guillotine
Info
Reviewer:
Phil Boatwright