When Brendan Met Trudy
Theatrical Release:
March 9, 2001
DVD Release:
August 22, 2002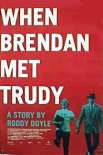 Synopsis
Brendan is an earnest, introverted schoolteacher who, aside from his participation in the local choir, has only one passion in his life, the movies. (Sound like anyone we know?) That is until he meets Trudy, a woman who is gregarious and adventurous beyond his imagination. Although their first meeting is a disaster, this unusually mismatched pair continues to see more and more of each other. As Brendan falls head over heels for Trudy, he is convinced he has found the Jean Seberg to his Jean-Paul Belmondo. His entire persona changes as he becomes enveloped in her carefree and sometimes dangerous world. It turns out, Trudy is a nocturnal thief. By day, she confesses to be a Montessori teacher, but by night, she burgles the neighbors for a living. Normally, Brendan would be on the phone to the police with such a discovery. But, true love clouds the thinking. Soon, he's sporting crepe soles and planning a robbery along with his beloved.
Dove Review
Film reviewers see so many copycat films, that when something fresh comes along, we tend to get over-excited. After viewing "When Brendan Met Trudy," I found myself thinking back to scenes I hadn't seen before, or at least scenes done with such an affectionate flurry that they seemed original. I found myself relating to this fellow. I know what it's like to be caught up in a great movie. And I certainly remember what it's like to be so in love that you find yourself doing things that previously held no interest. Opposites do attract. The characters are oddballs, yet relatable. The comic spin on daily doldrums is imaginative. And the performances, though somewhat wacky, are sincere and honest. Unfortunately, like so many Irish films that spotlight blue-collar working stiffs, it has an air of crudeness. I get the impression that none of the characters closes the bathroom door. Cursing is second nature to each of them. And sex is not the extension of romantic ardor, but merely a biological function as as mundane as defecating. Yes, it is fresh, often funny, but it is also extremely crude and profane. And while it attempted to put a fresh slant on the romantic comedy, I found myself wishing I was viewing any of the films the lead was seeing each time he attended a film retrospective.
Content Description
Language: Jesus 10, Christ 3, F-word 25, S-word 1, ass 1, expletives 2 – Sex: partial female nudity; fornication 4, sometime graphic – Occasional adult drinking – Drugs: a joint is passed around at a party – Violence: a man is hit with a club; thievery.
Info
Company:
The Shooting Gallery
Industry Rating:
Not Rated
Reviewer:
Phil Boatwright