Along Came a Spider
Theatrical Release:
April 6, 2001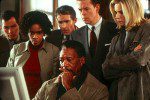 Synopsis
In "Along Came a Spider," a psychological suspense thriller adapted from James Patterson's first novel in the Alex Cross series, Morgan Freeman reprises his role as the Washington, D.C. police detective and psychologist who is through playing mind games with criminals – that is until a methodical predator, Gary Soneji (Michael Wincott), commits a daring kidnapping and lures Cross into the case.
In this installment, the death of his partner causes Detective Cross to retreat to the peace of retirement. Renowned as an accomplished police detective, psychologist and best-selling author, Cross reluctantly gets involved in a federal case when the kidnapper leaves a piece of evidence in his mailbox. Familiar with Cross' literary success, the kidnapper is theorized to have an ulterior motive: to be documented by Cross after committing the crime of the century. The detective and a Secret Service agent (Monica Potter) create a formidable team while also seeking their own redemption from past failures.
Dove Review
Whatever a film's weaknesses, it always has a redeeming value if Morgan Freeman is in the cast. Truly an exceptional actor, Freeman doesn't need verbose dialogue or scene-chewing antics to keep us glued to the screen. He has a mystic presence. Real, yet charismatic, he's intense and always likable. His performance as the President in "Deep Impact" made me wish he had run for that office. For not since FDR, or Henry Fonda, has there been a more electric personality in the White House.
As for the film itself, it is gripping but also uncomfortably unnerving. There's something unsettling about a child bordering on adolescence being held captive by a lunatic. Gratefully, we learn early on that the villain is not a sexual predator. His victim is a 12-year-old schoolgirl, played with spunk by Mika Boorem (Mel Gibson's scene-stealing daughter in "The Patriot").
Perhaps my aversion to this type of screen crime is due to the fact that the nightly news all too often features true stories of such traumatizing situations. Or maybe it's because I'm not yet desensitized to young women in peril scenarios. Whatever the reason, I don't like seeing children in harm's way.
"Along Came a Spider" also suffers from the all-too-accepted use of excessive violence (several people are shot at point blank range, with blood and membranes splattered about, and a jarring car crash) and the profane use of God's name to express frustration. (Admittedly, God's name is only misused once in this film). While profane language has become accepted speech on the silver screen, no matter the genre, it's like fingernails on a chalkboard to this moviegoer. With the understanding that it isn't the use of these words that desensitizes the listener, but rather their constant repetition. These blasphemous uses of God's name or the use of Christ's name as a mere expletive is featured in nearly every film nowadays.
So, what we have in "Along Came a Spider" is a cohesive suspense drama, with one of the best actors in the business heading a talented cast. But it uses one profanity and contains an excessive amount of graphic violence. If this objectionable content dissuades you from financially supporting this one, but you like suspenseful films, try these video alternatives: "The Man Who Knew too Much," "The Lindbergh Kidnapping Case," "Shadow of a Doubt," "Adam," "Experiment in Terror."
Content Description
Violence:
Child is kidnapped and held captive; several people are shot at close range; a young woman is strangled; a man is killed by a shotgun blast.
Violence:
Child is kidnapped and held captive; several people are shot at close range; a young woman is strangled; a man is killed by a shotgun blast.
Info
Reviewer:
Phil Boatwright