The Amazing Book
Theatrical Release:
June 15, 1991
DVD Release:
July 1, 2008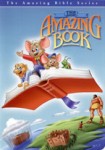 Synopsis
A captivating way to teach children about the world's best selling book, the Bible.
Join Doc Dickory, Revver, and Dewey Decimole as they explore the Bible and learn about it's authors, history, books, and stories and why they are all so important. They'll also sing along to upbeat, catchy songs and learn that the Book of books…"Is more than ink and paper, It's more than something to read; It's a letter of love from up above,… Special Delivery!"
The Amazing Book appeals to children ages 2-10 and helps nuture a love and understanding of the Bible's ever-lasting truths.
Dove Review
Your child will love this educational and fun sing-along film. This movie is animated with two mice and a beetle as your host. Other animated friends will join along to teach your child about the Bible. You will learn many things including but not limited to David and Goliath, the walls of Jericho, Shadrach, Meshach and Abednego in the fire and Daniel in the lion's den. There is a song that will inspire your child to learn the books of the Bible and have fun doing it. Last but not least you will see that many wise and great people of our time such as Isaac Newton and Abraham Lincoln have proclaimed the Bible as the greatest book ever.
I thought the cartoon characters were appropriate for child viewing. The movie seemed to keep moving at a good pace so that children will not become board with it. There are a few acts of Biblical violence such as David and Goliath, three men in a fire and Daniel in the lion's den. These scenes are animated and nothing real bad is seen. Overall I feel this would be a great movie for children under thirteen and very good for the whole family. Therefore we award our Dove Seal to this film.