The Amazing Children
Theatrical Release:
June 15, 1991
DVD Release:
July 1, 2008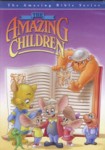 Synopsis
When the pint-sized Rikki and Revver decide they're tired of being kids, it's up to Doc and Dewey Decimole to show them, through songs and stories from the Bible, that kids can really make a difference in the world. After learning about the lives of the kids in the Bible, Rikki and Revver begin to change their mind about staying little a while longer.
Dove Review
In this film you will learn that all children are important. Young children will be inspired to see how and why they are so loved by us. They will be able to see amazing children of the Bible such as Samuel, Josiah the king of Israel at eight years old, Daniel, and Joseph who had dreams come true and was able to interpret them. Also you will learn about David who fought Goliath as a child and best of all about Jesus and his life.
This film is geared towards children under 13. Three mice and a beetle will be your host in this animated production with other friends joining in along the way. The cat and mouse cartoons remind me of Tom and Jerry when I was young and will keep your children entertained. Still the best message in this film is that the children are important to us and I believe they will feel much better about themselves after watching it. Therefore we award our Dove Seal to this film.