Town and Country
Theatrical Release:
April 27, 2001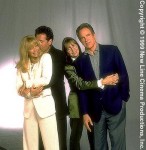 Synopsis
Porter Stoddard (Warren Beatty) is a well-known New York architect with a supremely successful life. But after a series of comic missteps, he finds his devoted wife Ellie (Diane Keaton) is suspicious of his whereabouts and his soon-to-be adult children (Josh Harnett and Tricia Vessey) don't seem to need him anymore. Meanwhile, Mona (Goldie Hawn), Porter's childhood friend, has just found out her husband Griffin (Gary Shandling) is having an affair, just as Griffin, his best friend, is on the verge of leavinghis old life behind. Shocked that Mona has now filed for divorce, Porter tries to pull his own life together before it's too late. But instead, he only winds up making matters worse. As Mona and Ellie ponder the foolish choices men make, porter slips into a series of bizarre comic adventures. Soon he and Mona grow dangerously close as life with Ellie begins to fall apart. Not knowing what to do, he does what any other self-respecting American male would do – he escapes with his best friend to search for some meaning to their quietly disintegrating lives. Along the way they meet up with Eugenie (Andie MacDowell), a jet-setting heiress, and her daffy eccentric parents (Charlton Heston and Marian Seldes); Auburn (Jenna Elfman), the free-spirited owner of a bait and tackle shop; and Alex (Nastassja Kinski), a beautiful cellist who may or may not be carrying Porter's Child. But just as it becomes evident neither man is the person he thought he was, each decide to use the one final weapon they have left-honesty. Suddenly the lives of both couples come together in a raucous denouement as they try to reclaim the part of themselves they seemed destined to forget.
Dove Review
I am always intrigued by any movie with an all-star cast like this one. Then, when I heard it took three years to complete the project, my expectations soared. I've experienced many disappointments in the past from this same stereotypical view that a good movie relies on at least three big names and the more time it takes the better the film. I should have known better. "Town and Country" should have been titled "First Wives Club meet Bob and Carol, Ted and Alice." Regardless of what the synopsis says, this is a 70's style movie about two middle-aged husbands who are tired of the status-quo and looking for some excitement. One (Shandling) discovers he's a homosexual and gets caught by his wife (Hawn) The other (Beatty) is a philanderer, who isn't satisfied making "music" with a young cellist (Kinski). He betrays his wife (Keaton) by bedding down her best friend (Hawn). The moral to this immoral tale is that roaming men are sorry for their sins — when they get caught — unless they are gay, in which case they are liberated. I was especially distrubed by the permissiveness of the parents (Beatty/Keaton) as their children invited bedmates in with impunity. All in all, this movie should have remained on the shelf where it was for two years. It still suffers from acute tastelessness and a fractured storyline.
Content Description
Language: F-word (3), Jesus' name taken in vain (2), many obscene terms for gentiles. Sex: rear nudity, several scenes of adultery and fornication, one homosexual encounter. Lots of bedroom noises behind closed doors, including the children and maid whose lovers are welcomed into the home.
Info
Company:
New Line/Fine Line