Mummy Returns
Theatrical Release:
May 4, 2001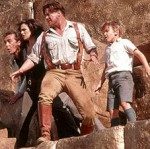 Synopsis
It's 1933, the year of the Scorpion and eight years since Rick (Brendon Fraser) and Evelyn (Rachel Weisz) fought for their lives against Imhotep (Arnold Vosloo). They are now married, living in England and have a son Alex (Freddie Boath). When the family discovers a secret box with a valuable bracelet in it that could resurrect Imhotep and another dark force, Alex gets kidnapped by the bad guys and a new adventure take the brave couple and Evelyn's brother Jonathan (John Hannah) across many miles to find their son. The Rock, Oded Fehr, Patricia Velasquez.
Dove Review
THE GOOD:…This is a thrilling, non-stop, action packed, special effects, intense mummy movie that's better than the first one and full of exciting, funny, interesting characters that will entertain young and old alike. The old favorites are back as well as a few new scary ones (The Rock plays a huge scorpion), the musical score makes it intense and the chase scenes are better than ever. Writer/director Stephen Sommers gives us a movie on the level of "Indiana Jones" that harkens back to the days of horror films that delivered a scary story and freighting effects without all the blood, gore and demonic modern day influences. Truthfully I enjoyed almost everything about his movie, from the campy dialogue, to the scary characters, the inventive escapes and the loving marriage the story kept reminding us of. Boath is adorable and does a great job with his first role. The Mummies are creepy, the dog-looking warriors are very cool and scary, and the battle scenes are amazing. It's rare a sequel is better than the original but this is going to be the summer's first big hit! THE NOT-SO-GOOD:…The only thing I didn't like in this movie was the cheesy special effects they used to make The Rock looked like a scorpion. With all of the modern technology that they have, it looked like they reverted back to a 50's technique. There may be a few scary characters and intense scenes that could give nightmares to little ones who aren't old enough to process the "make-believe" parts. Make sure your kids can handle the intensity because this movie is full of fast-paced action.
Content Description
Language: "Go to Hell and take your friends with you", "My dad's going to kick your ass", "ass" - 3 more times, "Hell" - 4, "Oh my God" - 5, "God" - 2, "For Christ's sake" - 1 Violence: Lots of gruesome violence as in the Indiana Jones series. A man's hand is eaten off by some unseen creature in a hole. A man is ripped apart by the Scorpion King. Beetles crawling under man's skin and face. Imhotep's body is partially decomposed and full of holes. Then more body parts are blown out by gunfire. Occultism: Though resented as a fantasy, the film is full of occultism, rituals and incarnations.
Info
Company:
Universal Pictures
Producer:
James Jacks and Sean Daniels