Moulin Rouge
Theatrical Release:
June 1, 2001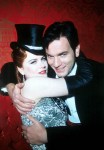 Synopsis
This is a period piece musical about the bohemian world of Montmartre, Paris, during the last year of the 19th century set to modern day music. A young poet (Ewan McGregor) from a middle-class background joins artist Toulouse Lautrec (John Leguizamo) in pitching a play they hope will get funded and be seen at the Can-Can nightclub Moulin Rouge. In the midst of the pitch, he meets, and falls in love with, a beautiful courtesan Satine (Nicole Kidman). Satine's future is unfortunately grim but the two make the best of it while they 'can-can'. A cast of weird characters creates an unusual play within a play. Also with Jim Broadbent, Richard Roxburgh, Kylie Minogue.
Dove Review
THE GOOD:…This is a colorful, visually astounding production that could have been a very cool movie if it would have incorporated a script that allowed the characters to actually dialogue with each other. Usually I applaud efforts to bring musicals back to the big screen in a modern way because we have a younger generation that needs to be reminded of it. In this case, even if the songs aren't Broadway material but rather (among others) David Bowie and Patti La Belle, they still get lost in the mayhem of a madman's teaparty that tries to pass for entertainment. THE NOT-SO-GOOD:…Watching a movie that has a frenetic pace from beginning to end is not only exhausting, but makes the audience feel like they are voyeuristically watching a director (in this case it's Baz Luhrmann) film and edit on a drug trip. It's that weird and that annoying. The frustration of trying to emotionally connect with the two main characters that rarely have a sensible conversation without bizarre and rude characters hovering in every scene ruined the story for me. Kidman does her best to deliver a stylish courtesan with a look reminiscent of Rita Hayworth, Jane Russell or Marilyn Monroe but she doesn't even come close. Billing her as a sexy, song and dance actress is one credit that shouldn't be added to her resume -talk about out of her league! What were the people who put this together thinking? This movie is going to bomb once the word gets out because it's definitely not going to attract the teens or twentysomethings. Most men will hate it and women will be turned off by the lack of romance or character chemistry – can you say Vu le vu video?
Content Description
Offensive language: There are a few sexual references, a racial slur and some name-calling. Sexual situations: Several passionate kissing scenes, Satine seduces a couple of men on to her bed while making loud noises, dances and caresses herself, and is seen a few times obviously nude but strategically covered by sheets so that only her shoulders and legs are shown. Lots of chaotic can-can scenes with costumes revealing cleavage and barely covered bottoms when they kick their legs into the air. There are discussions of courtesans (and being paid for sex), bordellos, and erotic dances. Violence: A man grabs a woman violently, chases her and throws her to the floor and onto a bed after tearing off some of her clothing. A woman coughs violently, gasping for air and spits out blood in several scenes. A man sobs hysterically after a woman dies in his arms.
Info
Company:
20th Century Fox
Writer:
Baz Luhrmann and Craig Pearce