Evolution
Theatrical Release:
June 15, 2001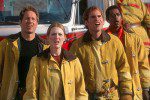 Synopsis
When a meteor hits the Earth carrying alien life forms, a couple of local community college professors, Ira (David Duchovny) and Harry (Orlando Jones), are the first on the scene to analyze the findings. Turns out another local, fireman-wannabe Wayne (Seann William Scott) saw the whole thing and together the three basically save the planet from the ultimate merging of aliens and destruction of Earth. Julianne Moore plays Allison, a braniac, klutz, epidemiologist from the Center for Disease Control and Prevention. Dan Aykroyd plays a whiny Governor.
Dove Review
THE GOOD:…Who ya gonna call when aliens invade Earth? The director/producer who gave us "Ghostbusters" and "Ghostbusters II", Ivan Reitman. I mention that because he used the same hilarious formula, tweaking the bad guys to be aliens in varying forms. The attack of the various creatures on a small town in Arizona (especially a flying dinosaur who literally picks up a shoplifter and carries her through the mall) is not only hilarious but unique, witty and clever (especially using Head and Shoulders to save the day!) The pratfalls mixed with silly violence keep it light and very entertaining. Duchovny and Jones are hilarious together and add just the right amount of sensibility and silliness to make them believable. But the real star of the movie is Scott who absolutely steals the movie with his funny one-liners and goofy expressions. THE NOT-SO-GOOD:…The not-so-good: Here's an example of a bright director who has ruined a very funny movie and PG-13 rating using God's name-in-vain one too many times. Aside from the language that mostly Aykroyd throws around, one other scene shows a bug under a man's skin and the doctor verbally describes how he's going to go in and pull it out. Nothing graphic is shown but it is very funnily talked about.
Content Description
Offensive language: Several religious profanities, crude and crass language. Sexual situations: Two adults sneak off to a truck and jump in the front seat but nothing happens. Violence: A man is dragged into a lake, a couple of scary creatures show their teeth and attack humans dragging a couple off camera. A creepy bug gets under a man's skin and a doctor gets it out from his behind. Creatures die and are blown up.