Scary Movie 2
Theatrical Release:
July 4, 2001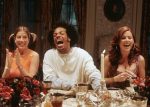 Synopsis
This is a follow-up to the Wayans brothers hit satire on scary movies that basically makes fun of anything creepy or scary. It spoofs supernatural thrillers like "The Exorcist", "Stigmata" in a plot that revolves around a group of college students who are recruited to spend a weekend in a creepy mansion
Dove Review
THE GOOD: … There's nothing good or funny about this movie. THE NOT-SO-GOOD: … I enjoy a good spoof as much as the next person but this movie is full of offensive, raunchy material, it would take me the whole column to list it all. Let me simply say that this movie goes way beyond simply spoofing thrillers. It is full of sexual situations that are so incredibly gross (a woman apologizes to a cat for using his kitty litter and it is shown) most people will gag watching it. I do not understand how a movie studio could think this movie was funny enough to distribute but shame on the Wayan brothers for promoting this kind of sick and vulgar comedy that's definitely not for kids or young teens.
Content Description
Offensive language: Lots of it too vulgar to mention but including references to pedophilia, erectional dysfunction, homosexuality, bisexuality and a vulgar-speaking parrot.Sexual situations: There are too many situations to mention. Violence: Spoofs on Hannibal, The Exorcist and others show people get shot, one man has the top of his head cut open, another couple are hit by a bus, a skeleton chases a young woman, a woman and man vomit dousing each other until they are all soaked, a cat and woman fight causing blood to spray out of the woman's mouth, a young woman urinates on the floor for a really long time creating a huge puddle, a man has a very noisy bowel movement, a man in a wheelchair and a man with a deformed hand make fun of each other's disabilities.
Info
Company:
Miramax Pictures
Writer:
Shawn Wayans and Marlon Wayans