Cotton Patch Gospel
Theatrical Release:
June 15, 1991
DVD Release:
June 30, 2008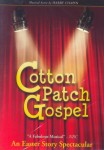 Synopsis
Cotton Patch Gospel has been highly acclaimed by critics and public alike. This award-winning musical drama is a leg-slappin', toe-tappin', hand-clappin' hoe-down of a story the retells the Gospels of Matthew and John – translated into present day Southern vernacular.
It brings the far away places of Nazareth, Jerusalem, and Bethlehem closer to home – Atlanta and Valdosta, Georgia. From His birth in a Gainesville, Georgia, trailer to His Good Friday lynching and Easter Sunday victory, the story of Mary Davidson's son, Jesus, is presented musically with zest and uninhibited joy.
The musical score is by the late Harry Chapin, founder of "World Hunger Year" and composer of such well known hits as "Cat's in the Cradle" and "Taxi". Harry Chapin considered himself "born to write music for Cotton Patch Gospel". Cotton Patch Gospel is special. It is a rare dramatic presentation that succeeds in both entertaining us and sharing fresh insight into the Gospel – the greatest story ever told.
Dove Review
This DVD makes a point with an odd twist. The gospel is modernized in this DVD stage play/musical. For example, Joe and Mary (instead of Joseph and Mary) travel to Atlanta (instead of Bethlehem) for an income tax audit. It is said a baby is born to God and a Georgia girl instead of a girl from Israel. And in this version, Joseph is not told to flee to Egypt as in the Gospels, but to Mexico!
The contemporary setting is further illustrated when an angel tells the shepherds to, "Get your tails over here!" There may be some people who are uncomfortable with the modernizing, but this group does point to Christ as the Son of God and they sing some wonderful songs in a country-gospel style.This may not be everyone's cup of tea as it is mentioned Jesus turned the water into wine, and he is referred to a "bartender" in a song. Also, there are a few words of language which are listed in the ratings descriptions below. The word "helluva" is used in a song four times so not every song is totally wholesome. Another example of one of the changes is that the Devil tells Jesus to turn stones into "grits" instead of bread, but again, this is titled "Cotton Patch Gospel" and the country flavor is very vivid in it. The music is quite good at times, notably a song called "Turn it Around" and "No Busy Signal to the Hot Line to God." The unconventional style might appeal to some, while the use of a "biscuit" for the Last Supper instead of unleavened bread might leave others feeling uncomfortable. At any rate, due to the overall redemptive theme, we award our Dove "Family-Approved" Seal to this DVD, recommending it for ages twelve plus.
Info
Company:
Bridgestone Multimedia Group
Reviewer:
Edwin L. Carpenter