Rush Hour 2
Theatrical Release:
August 3, 2001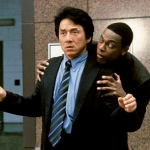 Synopsis
As Asian detective Lee (Chan) and his frenetic American partner, Carter (Tucker), become increasingly entangled in a criminal conspiracy involving a deadly Triad, the non-stop adventure takes them on a journey from Hong Kong to Los Angeles and Las Vegas where they must use all of their talents to trap the world's most feared gangsters.
Dove Review
This formula cop-buddy actioneer has some funny lines and well-choreographed martial arts battles, but Chris Tucker's shrill version of Chris Rock is an acquired taste, much like rap music or beef's tongue. As a comic and an actor his delivery is still a bit forced. And he never, absolutely never, shuts up. Chan, on the other hand, has pitch-perfect timing both with a funny gag and his ballet-like karate routines. Unfortunately, the film has several gratuitous obscenities and expletives. And at one point, we hear one misuse of God's name uttered by Chris Tucker. There is also one in the closing credits.
Content Description
2 profanities; 12 obscenities; 8 expletives; some sexual material, including innuendo and a couple of coarse sexual references; at one point we see a bare male bottom, but it is not in a sexual context; several scantily clad women are featured in a massage parlor; a woman undressing is spied upon; there is much violent action and we see a man shot at point blank range, a woman is shot, and a man stabbed to death.
Info
Company:
New Line/Fine Line
Reviewer:
Phil Boatwright