Marco Polo Return to Xanadu
Theatrical Release:
August 23, 2001
DVD Release:
August 23, 2001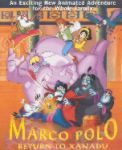 Synopsis
Young Marco Polo, a seventeen-year-old sailor whose distant ancestor was the famous explorer Marco Polo, finds purpose, friendship and adventure in his quest to fulfill an ancient prophecy. Traveling to the fabled kingdom of Xanadu, Marco faces many challenges while searching for Princess Ming Yu, the descendent of Kubla Khan. When he finally meets her, she and Marco rejoin the two halves of a magic medallion passed down through their families for generations. But danger lurks in the form of Foo-Ling, Kubla Khan's minister of state, who stole the matching medallion and used it to travel to the time of the Princess. He has now seized the throne, and is on a quest of his own – to destroy the last descendent of Marco Polo. The power of both medallions, now restored, enables Marco and his pals, The Delicate Dinosaur and Reginald the Seagull, to pursue Foo-Ling through space and time and bring him to justice.
Dove Review
This film has all the elements of a classic animated full length motion picture: action, comedy, romance, a bad guy and music.
The story opens with Babu, a wise old man on a magic carpet, who tells us that if we follow our own special star, we'll find the things we dream about. He then tells us the tale of the legendary traveler Marco Polo as he prepares to leave the mighty ruler of Xanadu, Kubla Khan.
Wearing a magical medallion, Kubla Khan asks his evil Minister of State, Foo-Ling, to bring him a second, identical medallion. Khan wishes to give Marco this medallion because it has the power of space and time travel and will give them the ability to see each other whenever they want even though they will be far apart. But Foo-ling steals the second medallion, forcing Khan to break the first medallion, breaking the power of both medallions and trapping Foo-Ling wherever he might be. He gives half of the broken medallion to Marco Polo, and explains that a new star shining brightly in the sky will one day lead another Polo to Xanadu to bring Foo-Ling to justice.
The story then follows the quest of the young Marco Polo as he accepts the challenge of reuniting his half-medallion with the one passed down through Khan's descendants. When he finds Princess Ming Yu, Kahn's descendent, his affection and friendship towards her start to grow. This is a heart warming tale of good winning out over evil. This film has won many festivals and prizes and is a good family film that will entertain the kids. There is no sex or offensive language in this film. It does have magic and "dark magic" in its story line, but the uses of magic are similar to those themes in many Disney films. The animation is very good.
Info
Company:
Tooniversal Company, The
Industry Rating:
Not Rated