O
Theatrical Release:
August 31, 2001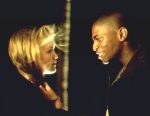 Synopsis
A modern day "Hip-Hop" version of the classic tale of "Othello." The story focuses on a young black man named Odin (Phifer) who is convinced by a conniving best friend, Hugo (Hartnett) that his girlfriend Desi (Stiles) is cheating on him. Of course, what Odin doesn't know is that Hugo is in fact motivated by his own jealousy of Odin's good fortune. Things turn nasty.
Dove Review
The storyline in "O" is based on Shakespeare's "Othello." The movie has many strengths that are unfortunately overtaken by its shortcomings. ….. Thankfully, "O" is not a contemporary group of actors butchering the bard's original dialogue as was attempted with miserable results in "Romeo Must Die." This story borrows from Shakespeare's play the central theme of deep devotion between young friends and lovers that becomes tragically torn apart by deceptions, jealousies and cultural biases. Somewhere amongst the overwhelmingly smutty dialogue and in-your-face sexuality is a well-acted, well-directed story of love and friendships gone awry. …. "O" was being filmed during the Columbine High School tragedy. The execs felt, because of the graphic shootings in the movie they should shelve it until things died down. ….. If you have a desire to see a pithy movie about lovers against all odds, I recommend, "Crouching Tiger, Hidden Dragon."
Content Description
Language: Totally dominated by vulgerities, crudities, profanities and obscenities - too numerous to count. Sex: Two graphic scenes of simulated intercourse with near nudity. Violence: One sex scene portays date rape. Graphic scenes of teenagers shooting one another. One teen suicide. Drugs/Alcohol: High School athletes taking performance enhancing drugs, snorting cocaine and drinking.
Info
Writer:
Play by William Shakespeare, Screenplay by Brad Kaaya