Victorian Era Couple Dances
Theatrical Release:
September 11, 2001
DVD Release:
September 11, 2001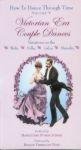 Synopsis
"Victorian Era Couple Dances" is the fifth in the "How to Dance Through Time" video series. This video continues the tradition of The Roamance of Mid-19th Century Couple Dances. The viewer can re-visit the classic 19th century couple dances and explore a kaleidoscope of 32 innovative step variations. The Waltz cultivates a wealth of turning embellishments; the Polka develops whimsical variations; the Gallop drives into a new level of expertise; and the Mazurka blossoms into a virtuoso display. Professional dancers demonstrate each step in slow motion and with close up camera views. Historical information, with original illustrations, illuminate the evolutionary role of each dance. The authentic music and fashions of the Victorian era enhance this video.
Dove Review
This video is an excellent learning tool for those interested in dance. The dances of the Waltz, Gallop, Polka and Mazurka are demonstrated in great detail for those who would like to know the finer elements of these classic dances.
Info
Company:
Dancetime Publications
Industry Rating:
Not Rated
Starring:
Lawrence Ewing and Sonia Fava