Glitter
Theatrical Release:
September 21, 2001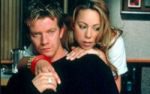 Synopsis
Loosely based on Mariah Carey's life, Glitter is set in the early 1980s club scene. Carey plays a talented young singer who was abandoned by her parents early in her life and is now struggling to make it in the music scene along with her two friends. Finally, she is discovered by a local DJ and her career takes off with him managing her every step of the way.
Dove Review
WOW! Mariah Carey can sing. This film captures the range of Carey's singing voice and has many songs packed with emotion. Also, many other songs that fuel the dance craze of the 1980's. If you like Mariah Carey, I think you will enjoy this film. This film is very typical of a unknown artists' rise to stardom. Carey, plays Billie Frank, a girl, abandoned as a child by her father and mother, who is a struggling, talented singer with a great voice that is going nowhere. She is hired to sing backup, along with her friends, for a "singer" named Sylk by Sylk's sleezy manger, Timothy Walker (Terrence Howard). Walker discovers how good Billie can sing and "ghost's" her voice over Sylk's to promote Sylk as this great singer. A local DJ named Julian Dice (Max Beesley) figures out what Walker is doing agrees to pay Walker $100,000 for Billie's contract. Dice then starts managing Billie's career and while rising to stardom, the two fall in love. Of course, Dice gets jealous and protective of Billie and their relationship starts to fall apart, with Billie eventually leaving Dice. Throughout the film Billie yearns to find her mother and be reunited with her. This film is too edgy in its approach of the 1980's dance and music scene. It is over the top in language, sex, and skimpy clothes to be rated family-friendly. OK for mature older teens and adults. Overall, the music is good and I thought a decent acting effort was delivered by Mariah Carey. For Mariah Carey fans, the soundtrack is a must!
Content Description
Language: There is a substantial amount of obscenities in this film. Hell (4), B-word (3), S-word (1), BS-word (2), Ass-(5). There are no F-words in this film.Sex: Billy and Dice sleep together. Nudity: Billy and dice are shown in bed, mainly covered. There are many scenes with women and men that have on very revealing clothing.Drugs: Lots of drinking and implied drug use.
Info
Company:
20th Century Fox
Writer:
Kate Lanier and John Wilder