Don t Say A Word
Theatrical Release:
September 28, 2001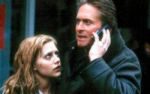 Synopsis
Based on the novel of the same name by Andrew Klaven (Michael Douglas), the film tells the story of a New York City psychiatrist whose daughter is kidnapped. The criminals are looking for a set of numbers which lead to a hidden $10 million jewel. These numbers reside somewhere in the recesses of the mind of Klaven's psychotic patient, Elisabeth Burrows (Brittany Murphy). Unless Dr. Klaven gets his patient to reveal the numbers by a preset deadline, his daughter is doomed.
Dove Review
If you saw Mel Gibson and Rene Russo in Ron Howard's kidnap thriller, "Ransom" you have an idea where "Don't Say a Word" is headed. The twist here is Michael Douglas's character is not a multi-millionaire, but a psychiatrist whose daughter gets kidnapped because one if his patients is keeping a secret that certain jewel thieves want to get hold of. Beyond that difference, the suspense is just as intense as "Ransom" and the acting is also very good. There are a couple of interesting plot twists that help keep the audience off balance, but no big "wow's." This movie has lots of typical Hollywood ingredients – action, thrills, suspense, some violence and lots of course language. There is virtually no inappropriate sexual behavior, except for a candid camera that peers into the privacy of the Klaven bedroom. Even there, no nudity is shown. Here's another good movie that would edit nicely into a family-friendly version.
Content Description
Language: Lots of profanities and obscenities are thrown in just to add to the "mood" of the film. The violence is more fist fighting and less bloody than most films of this genre'. There is no nudity and a bit of "peeping tom" lusting that proves uneventful.
Info
Company:
20th Century Fox
Producer:
Anne and Arnold Kopelson