3-2-1 Penguins: The Cheating Scales of Bullamanka
Theatrical Release:
October 4, 2001
DVD Release:
October 4, 2001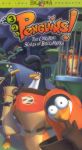 Synopsis
From the creators of Veggie Tales come the second flight of Zidgel, Midgel, Fidgel and Kevin — everyone's favorite feathered space explorers! And this time it's Michelle's turn!
Dove Review
Foul play is afoot on space-base Bullamanka, where the conniving Lizard King has defeated the kindly Bandicoot King in a bizarre local game called Squid-Tac-Toad! But did he play by the rules? Now the only chance to save the Bandicoot King from going down the "gurgler" is a rematch between the Lizard King and Michelle. Can Michelle beat the Lizard King at his own game? Can she keep the Bandicoot King and her penguin friends from going down the gurgler? And just what is a gurgler anyway?
This is a wild adventure filled with actions and intrigue, and you and your family will learn why God likes it when we play by the rules. Very entertaining for kids.
Info
Company:
Big Idea Productions
Industry Rating:
Not Rated
Reviewer:
Carol Verbrugge