Bandits
Theatrical Release:
October 12, 2001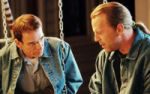 Synopsis
Womanizer Joe (Bruce Willis) and health nut Terry (Billy Bob Thornton) team up after their prison break to rob banks on the west coast. Known as the 'sleep-over bandits,' they hold bank presidents and their families hostage
overnight in their own homes before heading to the bank for cash. All goes well until they meet Kate (Cate Blanchett), a fiery red-head running away from a disastrous marriage. She joins the bank robbers and soon both men have fallen for her. Laughs are non-stop as the three become increasingly creative, charm their victims and ultimately outsmart the law.
Dove Review
"Bandits" contains unnecessary foul language, disrespect for authority and immorality. Joe justifies robbing banks because the funds are federally insured. The two crooks steal vehicles by politely enticing young women to hand over car keys. Their first night out is spent in a home where they interrupt a teenage couple obviously having sex. Joe and Terry make sure the young couple behaves and talk to them like uncles. However, Joe and Kate become sexually involved quickly, with one scene of them in bed together. Later she and Terry also start an affair. Several profanities and obscenities foul the dialogue. No serious injuries result from the action and gunfire eruptions, but property damage is quite extensive. "Bandits" glamorizes crime and disappoints with foul language and immoral behavior.
Info
Reviewer:
Mary Draughon - Movie Morality Ministries