The Man Who Wasnt There
Theatrical Release:
November 2, 2001
DVD Release:
April 16, 2002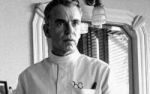 Synopsis
USA Films distributes this throwback to the black-and-white, film noir classics of the 40's and 50's, as the Coen brothers create a unique, although often bizarre, mystery. Ed Crane (Billy Bob Thornton), a barber working for his brother in law, hears about a business opportunity from a visiting businessman. While Ed is skeptical at first, he eventually decides to invest in the store. But to get the money, he decides to blackmail his wife's boss, Big Dave Brewster (James Gandolfini). Ed suspects his wife Doris (Frances McDormand) is having an affair with Big Dave. However, once the money changes hands, things begin to spin out of control for Ed. Especially when Big Dave finds out that Ed is the blackmailer. Like the brothers' past works, such as FARGO and THE BIG LEBOWSKI, the story really wanders out of the ordinary. But this time, out of the ordinary fails to hit the mark.
Dove Review
Most prominent of the objectionable content is foul language, with 25 strong profanities, including God's name in vain 16 times, but only one mild obscenity and several moderate crudities. One scene features a phony fortune-teller/psychic. And in one violent and somewhat gruesome scene, which earns the R rating, two people struggle and one of them ends up being stabbed in the neck. But frequent strong profanity should keep discerning viewers from seeing THE MAN WHO WASN'T THERE.
Info
Writer:
Joel Coen and Ethan Coen