One Small Hero
Theatrical Release:
November 7, 2001
DVD Release:
December 4, 2001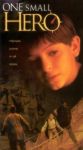 Synopsis
Joey Cooper tries for the 5th time to pass the test making him eligible to be a member of the Wilderness Club but, because of his small stature, he fails again. He then learns that his mother, being confident that he will succeed this time, has bought him camping equipment for the trip, even though she cannot really afford it.
Dove Review
Too ashamed to tell his mother the truth, he hides on the bus with the Wilderness Club campers. On the way to the campsite, they are kidnapped by two brothers. One of the campers is the daughter of a senator, and they want him to release their brother from prison in exchange for the girl.
Joey uses his brain rather than relying on physical strength, succeeding in foiling the kidnappers, and freeing all of the campers. He saves them all and becomes one small hero.
Info
Company:
Monarch Home Entertainment
Reviewer:
Carol Verbrugge