Barney: Be My Valentine, Love Barney
Theatrical Release:
November 12, 2001
DVD Release:
December 18, 2001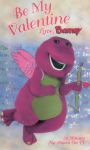 Synopsis
Barney and his friends celebrate Valentine's Day by exchanging cards and gifts. They are invited by the Queen of Hearts to tour the Valentine Castle.
Dove Review
Barney joins the Queens of Hears on a royal tour of Vanentine Castle whose rooms are filled with one sweet surprise after another! It's a special Valentine's Day when Barney's friends exchange valentines with the queen and then find that Barney has a surprise waiting for them at home.
Everyone in this video has a good time doing fun things together, singing and dancing, hugging one another and being happy. They do not hesitate to love one another, believing that when you love someone, you should tell them.