3-2-1 Penguins: The Amazing Carnival of Complaining
Theatrical Release:
December 5, 2001
DVD Release:
December 5, 2001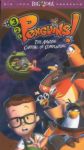 Synopsis
Another adventure with Jason and the Penguin Posse. Just as Jason is ready to accept defeat, the members of the posse rescue him from a bad case of the doldrums, with the promise of another intergalactic adventure.
What starts out as a leisurely day trip to an amusing carnival turns out to be anything but what they expected.
The characters in this story are very colorful, clever and appealing. The video has excellent animation, and lots of catchy tunes. Children will enjoy the action, humor, music and just about everything in this story.
Dove Review
In addition to the fun part of this video, there are some valuable issues such as God wanting us to look on the bright side of things – to think twice before complaining about the things we don't have, when we should be grateful for all the things we do have. "Be a bright, shining star instead of a seed of discontent".