Jimmy Neutron: Boy Genius
Theatrical Release:
December 21, 2001
DVD Release:
July 2, 2002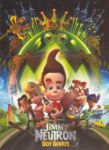 Synopsis
In this fast moving, computer-animated fantasy, Paramount Pictures and Nickelodeon Movies team up once more to provide a fun, fascinating comedy-adventure for kids. Jimmy Neutron, a 10-year-old techno-genius, has all sorts of sci-fi techno-gadgets in his house and even makes contact with a hoard of aliens, called Yokians. But the aliens swoop down on his town of Retroville and abduct all the parents. Without parental supervision, the children go on a wild party spree, but soon come to regret it and wish their parents were back. So, with the technical inventiveness of Jimmy Neutron, the kids build some rudimentary space ships and are off to rescue their parents. They end up doing battle with the Yokians and their monstrous, wrathful pagan god.
Dove Review
The frantic action and battles are non-stop and include some scary monsters and circumstances which could be too intense for very young children. One crude remark by a young girl and a comical, suggestive quip by a robotic dog tarnish the dialogue, but the film is reasonable and acceptable for viewers 4 years and older. Additionally, the theme of children finding out the importance of parental love and care is very commendable.