Chadders Discoveries: Chadders Bug Safari
Theatrical Release:
December 21, 2001
DVD Release:
December 21, 2001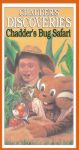 Synopsis
Chadder the chipmunk interacts with his friend Ashley and various insects, describing how the bugs function and all the good things they do.
Dove Review
The story demonstrates how bugs play an important role in our lives. Chadder talks about how God sees what is inside our hearts, how He knows us inside and out. He uses the example of the Bible story of David and Goliath, describing how small David slew big Goliath, comparing how small ants can do big things. We need help from God just as David did. God is our friend and takes good care of us, knows us, loves us, helps us, forgives us, and shows us how to love others.