Beauty and the Beast (IMAX)
Theatrical Release:
January 1, 2002
DVD Release:
October 24, 2002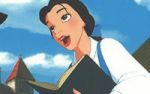 Synopsis
In 1991 "Beauty and the Beast" was nominated for an Oscar best picture award, a first for an animated film, and won another for its music. Now, Disney rings in the New Year with a 10th anniversary issue of this family favorite, with a digitally-remastered format designed for IMAX and other Giant Screen Theaters. Even children who have seen the video will enjoy this bigger-than-life romantic story of Belle (voice of Paige O'Hara), the lovely French maiden, and the lonely, fierce Beast (Robby Benson) confined to an enchanted castle. When her elderly father ends up a prisoner in the enchanted castle, Belle bravely approaches the Beast to replace her father. Once a handsome prince, the Beast is under a spell that won't be broken until he truly loves someone else and he in turn is loved for who he is. Clever musical numbers and the comical antics of Belle's castle friends combined with adventure and action make "Beauty and the Beast" a real treat.
Dove Review
Parents should be cautioned that on the huge IMAX screen, images and sounds in scary forest scenes and the Beast's unleashed fury when he's displeased are intensified and may frighten youngsters. Some may view the evil spell changing a human into a beast as witchcraft, but never is this story promoted as anything but a fairy tale. Overall, the positive messages about loving others, bravery and family support dominate the film.