Adventures in Oz with Cheryl: Munchkidland
Theatrical Release:
January 11, 2002
DVD Release:
February 12, 2002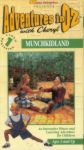 Synopsis
The adventure begins when Dorothy, a fitness expert from Kansas, is caught in a cyclone. As the storm tosses everything into disarray, Dorothy begins by teaching the importance of a clean room and good personal hygiene. Dorothy meets the Lizard of Oz, a librarian and nutritional expert, and soon realizes that she has landed in a very unusual place – Munchkidland. She learns from the Lizard that long ago the Nice Witch threw a terrible tantrum because she couldn't skip down the Yellow Brick Road. The Nice Witch locked up her magic silver exercise shoes, Archie and Lefty, and cast a spell of lazy rain so that no one would ever want to play or exercise again. When Dorothy declares her goal to make the Land Of Oz healthy and happy again, Mayor Boz presents her with the magic silver exercise shoes to wear on her journey. Together she and the Lizard set off down the Yellow Brick Road to Fun and Fitness!
Dove Review
This is one of the most creative fitness videos I have watched. Cheryl Ann takes kids and adults alike on the Journey to Oz in this fun recreation of the Wizard of Oz story. Throughout the video, in addition to incorporating the wonderful story of Dorothy and the entire Wizard of Oz gang, she has added wonderful elements for children: elements like fitness is fun, original songs, and fun-filled characters that kids will enjoy. Kids will have fun doing the exercises and getting into the story of traveling down the Yellow Brick Road to Fun and Fitness. This is a three tape series and I would recommend getting all three.
Info
Company:
Ozsome Enterprises, LLC
Industry Rating:
Not Rated