Adventures in Oz with Cheryl: Yellow Brick Road
Theatrical Release:
January 14, 2002
DVD Release:
February 12, 2002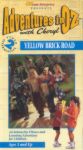 Synopsis
Cheryl, the storyteller, continues reading about Dorothy and her journey down the Yellow Brick Road. Along the way, the Lizard of Oz emphasizes the importance of eating vegetables and reading. Soon they meet Scarecrow who teaches us about stretching. Scarecrow wants his brain to be as flexible as his body, so he joins Dorothy in search of his own goal – to learn how to read. Later they meet TinKid, who wants a heart so he can be nice and make friends. While TinKid has spent many hours sculpting every muscle in his body, he doesn't have the most important muscule – the heart. Finally, they meet Lion, who is afraid of all kinds of things. He joins the others in search of the courage he needs to go along with his superior strength. So Dorothy and her new friends join together as a team in search of their goals: Scarecrow – to learn how to read; TinKid – to make friends; Lion – to become a courageous ruler; and Dorothy – to make the Land of Oz healthy and happy again!
Dove Review
Continue the journey on the Yellow Brick Road To Fitness with the second segment of this interactive fitness and learning adventure for children. In this second video, Cheryl continues her journey, and along the way meets new friends, like Scarcrow, TinKid and Lion. Together they learn the value of stretching before exercise; reading; not overeating; regular exercise and much, much more.
The exercise in this segment is the intermediate level and will be fun for kids to follow. As with the first segment, there are many original songs that kids can learn and sing along to. Geared for kids 3 years of age and older, this video will bring hours of fun for kids, teaching them the importance of fitness, good eating habits and many other good values.
Info
Company:
Ozsome Enterprises, LLC
Industry Rating:
Not Rated