The Bachelor: Edited
Theatrical Release:
January 22, 2002
DVD Release:
January 22, 2002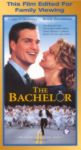 Synopsis
Faced with the choice of getting married within the next 24 hours or losing a $100 million inheritance, un-repentant bachelor Jimmie Shannon is suddenly desperate to get to the altar. The problem is his adorable and independent girlfriend, Anne, has seen through his act and won't touch him with a ten-foot pole. With the priest waiting in the wings and the minutes counting down, it may take 1,000 brides to help Jimmie discover the true meaning of love in the movie critics call "…the epitome of a modern romantic comedy."
Dove Review
The premise of this film is played out from beginning to end: Jimmie Shannon (Chris O' Donnell) is left a ton of money in an inheritance, as long as he is married by 6:05 pm on his thirtieth birthday. The problem is he doesn't feel ready to marry, although he loves his girlfriend Anne (Renee Zellweger). When his feeble proposal is turned down by Anne, Jimmie is put into a predicament as he nears his thirtieth birthday with no bride at hand. He eventually has to do some soul searching after plotting to marry any ex-girlfriend who will have him.
The film does have a few sexual innuendos and some mild language. We award our Dove Seal for ages twelve and above.
Info
Company:
New Line Home Entertainment
Producer:
Lloyd Segan and Bing Howenstein
Reviewer:
Carol Verbrugge