The Mask: Edited
Theatrical Release:
January 23, 2002
DVD Release:
January 23, 2002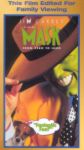 Synopsis
Jim Carrey stars as mild-mannered bank clerk Stanly Ipkiss, who discovers a mysterious ancient mask that brings his inner most desires to wild, screaming life! Now, together with his sidekick Milo, this wise-cracking green tornado is taking Edge City over the top in this romantic-action-comedy that will leave you S-s-s-s-smokin'!
Dove Review
This is a film which will appeal to a lot of young people, although some older viewers will enjoy some of the comedic moments as well. For instance, in one scene Stanley Ipkiss (Jim Carrey) kicks his broken down junker, slips and then promptly falls to the concrete. It is a delightful moment to watch. The main theme of the film is that bank clerk Stanley is transformed into an ebullient super-hero when he dons a mysterious mask.
Stanley is attracted to young Tina Carlyle (Cameron Diaz in her film debut) and believes she is attracted to his green-faced alter ego, the result of his mysterious mask. As Stanley fights crime and dances with Tina, he soon begins to wonder if it is not his true self that she prefers to spend time with.
In this edited version the language has been toned down and we award our Dove Seal to this picture.
Info
Company:
New Line Home Entertainment
Reviewer:
Edwin L. Carpenter