The Count of Monte Cristo
Theatrical Release:
January 25, 2002
DVD Release:
September 10, 2002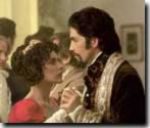 Synopsis
Alexandre Dumas' classic tale of betrayal and revenge returns to the big screen in this most recent adaptation about the hapless hero, Edmund Dantes (Jim Caviezel), who seems to have everything going for him. But betrayed by his envious friend Fernand (Guy Pearce), Edmund finds himself arrested for treason. Because of a magistrate's political ambitions, Edmund is sent to disappear forever on an island prison. The Abbé Faria (Richard Harris), an imprisoned priest, befriends Edmund and spends their years together educating him in languages, math, science and swordsmanship. When an accident fatally injures the priest, he gives Edmund a map to fabulous wealth hidden on the island of Monte Cristo. The priest's death also gives Edmund a way to escape, find the treasure, and exact poetic revenge on those who robbed him of his life, his family and his love.
Dove Review
Virtually free of coarse language, "The Count of Monte Cristo" maintains the major elements and themes of Dumas' story. An interesting twist focuses on Edmund's rejection of God after his imprisonment, but later references show his return to belief. Although the story seems to focus on revenge, the priest tells Edmund that vengeance belongs to God and a sentence carved into Edmund's cell states that God will give justice. Fernand is often shown drinking and references are made to his later adulteries but neither is condoned. A few sword stabbings are unnecessarily graphic and some sexual references are slightly crude, but teens and older can enjoy this adventurous tale.