Kung Pow: Enter the Fist
Theatrical Release:
January 25, 2002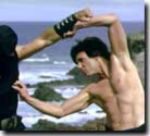 Synopsis
As one of the most, unfunny movies in the past decade at least, KUNG POW: ENTER THE FIST attempts to spoof the old dubbed martial arts movies of the seventies. Using actual footage from 1976's TIGER AND CRANE FISTS – released in the US as 'Savage Killers' – KUNG POW reinvents the story. Computer generated effects superimpose characters into the older film and added footage moves this so-called story along. The result is crude, inane and obvious. The story follows The Chosen One (Oedekerk), who is pursued by an evil council that wants him out of the way. However, The Chosen One is also seeking out his nemesis and, in the process, has many encounters with lower level cronies. All of which leads to a final climax that cannot come quickly enough.
Dove Review
Easily the worst movie of the year, and likely to hold that spot for some time, KUNG POW should be gathering dust on video shelves before you know it. The Chosen One has many violent encounters with various kung fu fighters, so there's plenty of punching, kicking, and stick fighting. The somewhat excessive slapstick violence, a couple of lines of sexual dialogue and six moderate crudities, make KUNG POW chop puey.