A Spiritual Tour of the U.S. Capitol
Theatrical Release:
February 27, 2002
DVD Release:
July 4, 2011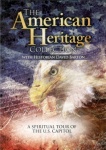 Synopsis
The United States Capitol building has long served as a beautiful symbol of American liberty. This tour through the inside of the Capitol will give you not only an exclusive look at the building but also a unique perspective on its history. You will be inspired by the many Godly heroes honored throughout this structure and will discover the beautiful religious artwork and engravings displayed inside. Numerous historical reenactments included in the video will bring to life those great men and events depicted throughout the building.
This is a tour that you don't want to miss. Whether you're planning a visit to the Capitol of simply want to know more about this majestic edifice, this video is for you. Families, church congregations, students, and government officials will be enriched by experiencing the inspiring heroes and events commemorated with the U.S. Capitol building.
Dove Review
This DVD, as with others in the series, is well worth watching. Its historical lessons are taught in the United States Capitol building as host and narrator David Barton shares the Christian faith of many of the figures he mentions. The images are grand as paintings and statues are featured of various signers of the Declaration of Independence. And these include names many will recognize.
In the beginning of the DVD a John Quincy Adams' quote is used: "The Declaration of Independence laid the cornerstone of…government…on the precepts of Christianity." Barton states the spiritual heritage of the building is little known among many people.
We learn about the Rotunda and the subsequent dome and its history. We learn of Pocahontas and her conversion to Christianity and Barton shows a painting of her baptism. He also mentions the power of local government and gives us a few details about the King James Bible, printed in 1611. Famous names and biographies are taught, including those of John Witherspoon, a signer of the Declaration and who was responsible for the first American Family Bible. We also learn of our first Chief Justice, and a signer of the Declaration, Thomas McKean. The La Amistad case of 1841 is featured as well.
This is an incredible DVD of historical significance, teachings, and image details. The visuals are terrific. We highly recommend it for all ages.
Info
Company:
Bridgestone Multimedia Group
Industry Rating:
Not Rated
Reviewer:
Edwin L. Carpenter