The Climb
Theatrical Release:
March 5, 2002
DVD Release:
March 5, 2002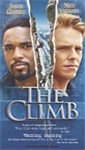 Synopsis
Two young men are hired by a company to climb a mountain as part of a publicity promotion. The men have always dreamed of climbing this particular mountain, and jump at the chance to finally have the opportunity by having the company pay all their expenses.
Dove Review
This is a powerful story of two men whose philosophies and spiritual beliefs are totally different. One is a very devout Christian who is caring, understanding, patient and loving, and who does not believe in taking foolish risks. He tries to share his Christian principles with his fellow climber, who rejects them as unimportant and unnecessary. The other man is self-centered, impulsive, has no Christian beliefs, and is convinced that he can accomplish anything without anyone else's help, including God's.
While on the mountain, the Christian continues to give example's of God's love through conversation and his deeds. Will the seeds that have been planted reap a harvest? This film is very captivating and powerful. It is a must see for all Christians who minister to others and for those they minister to.
Info
Company:
World Wide Pictures
Industry Rating:
Not Rated
Reviewer:
Carol Verbrugge