All About the Benjamins
Theatrical Release:
March 8, 2002
DVD Release:
August 20, 2002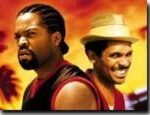 Synopsis
In "All About the Benjamins," bounty hunter Bucum Jackson (Ice Cube) doesn't have many friends. He competes for jobs with other bounty hunters, fights with his boss over payment, struggles with police – since they would rather catch the crook – and most of all, he has to deal with all those criminals who start running when they see him coming.
Hot on the trail of small-time criminal Reggie Wright (Mike Epps), Bucum stumbles upon a diamond heist gone bad. Wright gets away by secretly jumping in the back of the get away car, leaving Bucum to clean up the mess, which includes five dead bodies. When Bucum finally catches up with Reggie, he realizes that Reggie can lead him to the stolen diamonds. So this unlikely team tries to work their way to the hidden sparklers before the bad guys can get rid of them, or the diamonds.
"All About the Benjamins" will certainly not be mistaken for an Oscar contender, nor is it all that creative in its storyline. However, it should find appeal among its target audience, which is pretty much anyone looking for some mindless, action-packed entertainment.
Dove Review
"All About the Benjamins," as in Benjamin Franklin, whose face is on the hundred dollar bill, is basically about greed. Bucum is forced to take Reggie along as a partner, since that's the only way Reggie will reveal what he knows about the diamonds. Joining with someone against crime seems like it would reform Reggie, as he seeks to make things right and help Bucum execute a little justice. However, he and Bucum both use the whole operation as a glorified scam, and end up stealing part of the money for themselves.
Some of the shootings come off as quite brutal, and one graphic scene features Bucum torturing a man by twisting a medical screw, part of a contraption to stabilize an earlier wound, into his arm. Add more than 200 obscenities to the dialogue and "All About the Benjamins" cannot be Dove Family-Approved.
Info
Writer:
Ronald Lang and Ice Cube
Reviewer:
Movie Morality Ministries - John Adair