Ice Age
Theatrical Release:
March 15, 2002
DVD Release:
November 26, 2002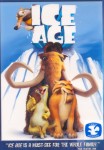 Synopsis
Twenty thousand years ago, glaciers were overrunning the Earth, and creatures everywhere were fleeing the onslaught of the new Ice Age. In this time of peril, we meet the weirdest herd of any age: a fast-talking but dim sloth named Sid (voiced by John Leguizamio); a moody woolly mammoth named Manny (voiced by Ray Romano); a devilish saber-toothed tiger named Diego (voiced by Dennis Leary); and an acorn-crazy squirrel known as Scrat. This quartet of misfits unexpectedly and reluctantly comes together in a quest to return a human infant to his father. Braving boiling lava pits, treacherous ice caves, freezing temperatures and a secret, evil plot, these "sub-zeroes" become the world's first heroes!
Dove Review
This pre-historic adventure is full of fun and laughs and has a good story as well. As the title implies, "Ice Age" has its basis in the theory of evolution. There are references to "millions of years," the evolutionary process, and man being at an almost cave man-like stage with no language ability.
The characters are fun to watch and draw you in immediately. Sid the sloth is involved in numerous clumsy mishaps or physical comedy which makes him a leading character. Although there is no crude language, there are several times where words such as stupid, idiot, shut-up, and poop are used and at one point Sid steps in a pile of poop and makes a big deal about it. There are two scenes where a pride of saber-toothed tigers attack, which could be scary for very young viewers. Another scene to keep in mind is when a woman jumps over a waterfall to save her baby and eventually ends up drowning from exhaustion (implied).
"Ice Age" is a great story of friendship which will keep kids and adults of all ages interested and laughing. Keeping the noted things in mind, Dove approves this movie for a great night of family viewing.
Info
Company:
20th Century Fox Home Ent.
Writer:
Michael J. Wilson and Michael Berg
Director:
Chris Wedge and Carlos Saldanha