E.T. the Extra Terrestrial
Theatrical Release:
March 22, 2002
DVD Release:
October 22, 2002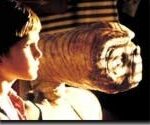 Synopsis
For its 20th Anniversary, Universal Pictures re-releases Steven Spielberg's 1982 film classic in a new, improved format, including a digitally re-mixed sound track. But the story is the same and will tug on a new generation's heartstrings just as it did when first released.
Henry Thomas plays Elliott, a 10-year-old boy who lives in California with his single mother (Dee Wallace Stone), his older brother (Robert MacNaughton) and his younger sister (Drew Barrymore). When an alien spaceship accidentally leaves one of its crew near Elliot's house, Elliot discovers the small, lovable alien and they become close friends. But government and scientific officials are looking for the alien called E.T. (for extra-terrestrial), so Elliot keeps him hidden. However, Elliot must eventually let his siblings and a few friends know about E.T. Most of all, E.T. wants to return to his home planet, so Elliot helps him build a communications device to "phone home." How E.T. adapts to his new surroundings and his attempts to return home make for a very lively, humorous and heartwarming adventure.
Dove Review
The themes of "E.T." are communication and relating to those who are different from ourselves. Elliot and his siblings come to love and respect E.T. Interestingly, E.T. has unusual capabilities, such as levitating objects, miraculously healing wounds, and even the ability to make others fly. But these are not necessarily supernatural and could be considered technical capabilities of an advanced technological society. Many Christian viewers have also noted comparisons to E.T.'s story and the Gospels. Unfortunately, in an angry moment, Elliot uses an anatomical term in an offensive insult meant to be obscene, but his mother thinks it is amusing. Elliot's older brother also uses an obscenity and a few mild and moderate crudities. If not for the foul language, "E.T. the Extra Terrestial" could be approved for all ages; but because of the language, Dove recommends the film for ages 12 and older.
Info
Company:
Universal Pictures
Reviewer:
Movie Morality Ministries - John Evans