Reversal
Theatrical Release:
April 19, 2002
DVD Release:
August 30, 2002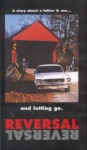 Synopsis
In this moving coming-of-age tale, a 17-year old champion high school wrestler, Leo (Danny Mousetis), sees his dedication to the sport tied up in his love for his father. In an endless and sometimes destructive cycle of training, sacrifice, and starving to make weight, Danny is feeling the lure of the world beyond the mat. With the help of his friends and the love of his girlfriend, Leo faces serious choices: live his own life or let his father live through him; follow the path prescribed or follow his own dreams.
Dove Review
Wow, does this film, based on a true story, take me back to high school and the wrestling that I attempted for two years. The constant working out, and fighting to make weight. You wouldn't know it now by the 200 pounds I maintain, but in high school I wrestled in both the 98 and 107 pound weight classes. And just like in this film, other wrestlers and myself were always trying new ways to shed the pounds.
This film is very realistic in how wrestlers train and try to make weight. Leo (Danny Mousetis) is an all-district wrestler going into his senior year of high school. He has trained his entire life to win at this sport and has developed incredible self discipline. Much of this comes from his father, Ed (Jimi Petulla), who pushes him his entire life. One scene shows Ed, when Leo was about 7, getting him out of bed at 5 am to run, and this, on the day of a big wrestling meet.
Leo continues to dedicate himself to wrestling, but in his senior year his eyes are opened to other areas of interest, like living life. Leo is shy, quiet and soft spoken, and Danny Mousetis does a wonderful job in playing this role. But why does Leo wrestle, and will he continue? Will he achieve his own dreams or his father's? The story unfolds in a marvelous way to answer these and many other questions.
Even though this film centers around the sport of wrestling, it really isn't about wrestling at all. It is about so much more. The love between a father and a son; the regret of a father who didn't achieve all he wanted to achieve in his life and tries to live through his son; the struggle of a marriage relationship; the desire for a young man to experience life on his terms and not someone else's.
This film, written and produced by Jimi Petulla, who also plays the part of Coach Ed Leone, and directed by Alan Vint, is very well crafted. It has the look and feel of a major budget studio release, but is a lower budget independent film. They have put together a wonderful non-star-studded cast and Jeff Danna, the film's composer, has done a magnificent job with the music. There is some crude and obscene language and some sexual dialogue that The Dove Foundation would have liked Petulla not to include, but we still go to the mat in approving this family film for a 12+ audience. Teenagers and adults will enjoy the many positive messages this film contains.
Info
Company:
Jimi Petulla Productions