Farkleberry Farm: Wet and Woolly
Theatrical Release:
May 1, 2002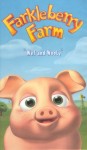 Synopsis
This isn't Old MacDonald's farm. At Farkleberry there's no planting or harvesting, no barbed wire fence, no slop to sling, and no Farmer John for the roosters to wake. On this farm the bulldozer flies, the barn has hay fever and the animals, tractors and buildings basically take care of themselves. Nestled on a colorful landscape the farm has flourished as its oddball inhabitants have created their own type of community built on support, friendship and a healthy dose of playful mayhem. Join the four adventurous heroes: Doze, Birdy, Nicki and P.J. as they plow through predicaments that teach and challenge them.
"Farkleberry Farm" is a 3D computer-animated children's series. The show's distinct sense of humor will appeal to both children and adults. The story lines highlight challenging situations that help provide children with valuable life tools as well as wholesome fun.
Dove Review
"Farkleberry Farm" is filled with fun images for kids. Talking animals, a bulldozer that can fly, move on water and land, a barn with hey fever and much, much more. There are a few original songs in this episode that will have kids singing and wanting more. The lessons that kids can learn from "Farkleberry Farm" are plentiful. Things like friendship, keeping promises, helping others and the importance of family.
Good Friends Entertainment has done a great job of incorporating 3D computer animation and wholesome family values into its new series. We know the "Farkleberry Farm" series will grow on you and wholeheartedly award our Dove Seal to the "Wet and Woolly" episode.
Info
Company:
Good Friends Entertainment
Director:
Jeff Beith
, Stephen Goldblatt and Jeff Owens
Producer:
Jeff Beith
, Stephen Goldblatt and Jeff Owens
Industry Rating:
Not Rated