Life Or Something Like It
Theatrical Release:
April 26, 2002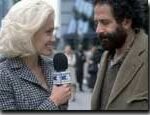 Synopsis
Seattle news personality Lanie Kerrigan (Angelina Jolie) seemingly has it all, the Mercedes convertible, professional baseball player boyfriend, spacious high-rise apartment, and a job opportunity for a national morning talk show in New York. However, on a routine interview of local character, 'street prophet' Jack (Tony Shaloub), he tells Kerrigan she will die in less than a week. As this revelation gradually shakes Kerrigan from her self-absorbed world, she finds the only person really interested in her is co-worker and constant nemesis Pete (Edward Burns). As she begins to take stock of her life (and try to determine if Prophet Jack is legitimate), she and Pete renew their former friendship and discover why life is worth living. LIFE OR SOMETHING LIKE IT has an intriguing premise with some top-notch performers, particularly Burns and Shaloub. However, the film languishes in predictability, clichés, and ultimately ambiguity about Jack's prophesy. With a few bright moments of humor, but mostly unsatisfying interaction, this film should make a quiet exit from theaters in the not too distant future.
Dove Review
Lanie Kerrigan starts the film as one of the most selfish and shallow characters to be imagined. Her life is simply about external things; her looks, her car, her apartment, her clothes, and her career. Family life is non-existent; she and her boyfriend talk about unimportant trivia, and even her 'friendships' seem based on flattery, real or feigned admiration. With Jack's prophecy however, Lanie slowly begins to realize the shallow reality of her life. She wonders about the meaning and purpose of her life, and attempts to make amends for past wrongs. Jack claims to receive his messages from 'God' and, even though some predictions come true, just where and even if he receives real messages remains ambiguous throughout the story. Also, there is a sense of pre-determined fate that is ultimately outside the characters' control, even though they are encouraged to make the most of what they have been given in life. The importance of family, friends, and relationships, rather than things, comes to the fore as Lanie makes positive changes in her life. Unfortunately, the film includes a bit of foul language and a strongly implied premarital sexual encounter, which makes the production fall short of our recommendation. Without the message of premarital sex as acceptable and use of several obscenities, teens and adults could enjoy LIFE OR SOMETHING LIKE IT.