Newton in a Bottle
Theatrical Release:
May 8, 2002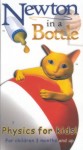 Synopsis
This video is the first in a generation of early learning videos; what we at the Dove Foundation like to call Edutainment. Using the latest in 3D animation technology, "Newton in a Bottle" demonstrates fundamental principles of physics to the youngest viewers. Max the cat instigates a series of capers involving colliding balls, teeter-totters, and zany machines.
The goal of this video for children is that it contains several layers of information, each layer increasing in sophistication. On a basic level the program acts as an infant stimulation video, but the activities within each scene have deeper meanings and provide a stage to demonstrate cause and effect to older children.
Dove Review
Captivating! This is a wonderful concept for parents wanting to stimulate their very young children with a very cool learning video. "Newton in a Bottle" incorporates music, vibrant colors, movement and mechanisms into a sequence of learning tidbits for kids. Very young kids will see the colors, listen to the music, and enjoy the movements on the screen and, I suspect, will not even realize the information they are taking in. Older children will understand the concepts and be thrilled at how these principles are being presented. Max the cat takes viewers on a fun series of physics investigations and masters some by trial and error.
Parents that buy this video will also be encouraged to download the Parent's Guide from the "Newton in a Bottle" website. The guide is very comprehensive and gives parents the ability to deal with their child wherever they are at conceptually, like Pre-verbal, Verbal and Analytical rather than at different age categories. They cover Sir Isaac Newton, leverage, gravitation, momentum, projectiles, light, simple machines, levers, gears, orbits, solar systems, comets, solar wind and much more.
This revolutionary concept of teaching young children is very exciting. I think parents will want to own this video and will certainly look forward to others in this series.
Info
Company:
Newton In a Bottle
Writer:
Justin Stiles and Hilary Heinmets
Industry Rating:
Not Rated