My Best English Volume 2: Colors
Theatrical Release:
May 7, 2002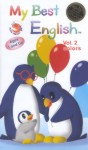 Synopsis
"My Best English" is a series of educational videos for young children. There were created as an effective and entertaining teaching aid to help facilitate language learning while promoting a positive environment for the child.
This video teaches ten basic colors. The video starts with primary colors: red, blue and yellow. Each color is graphically introduced and followed by beautiful live images of various familiar objects and animals. Then it teaches white and black. A color-mixing procedure for each color is added to teach secondary colors: green, orange, purple, brown and pink. Primary school teachers narrate this video in an easy-to-follow format so that the child can interact verbally by repeating what is said. A very cute song, "Painted Walls," and eye-catching animations keep attracting young children's attention. Several fun skits, featuring 11 year-old Scout Taylor-Compton and the little mascot, "Guin The Penguin," accentuate the video.
Dove Review
Mixed with music and fun, kids will have hours of fun learning their colors in this fun-filled educational video. Great songs, skits and animation will hold young children's attention while they learn the colors of the rainbow. The "My Best English" series is a must for any parent with young children that wants them to learn language skills in a fun creative way. I wish I would have had the "My Best English" series when my kids were young.
Info
Company:
Image Factory, Inc.