The Importance of Being Earnest
Theatrical Release:
May 24, 2002
DVD Release:
November 12, 2002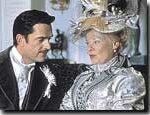 Synopsis
Two dashing bachelors, Algernon Moncrieff and Jack Worthing (Rupert Everett and Colin Firth), have devised a clever way to dodge unwanted social and emotional commitments. Unfortunately and coincidentally, each presents themselves to different family members as "cousin Earnest." When Jack falls in love with Algernon's cousin Gwendolen (Frances O'Connor), and Algernon falls for Jack's innocent 18-year-old ward Cecily (Reese Witherspoon), their lives become entangled in a comical web of deceit. Based on Oscar Wilde's wildly (no pun intended) imaginative, witty stage play set in 1890s England, "The Importance of Being Earnest" is a real summer treat for teenagers and adults fascinated with the Victorian era.
Dove Review
What a tangled web Algernon and Jack spin when they pretend to be "Earnest." However, they do suffer consequences and learn a great lesson from their deceit. In that era, the importance of being well bred was much greater than being honest. Algernon's Aunt Augusta (Judi Dench) insists that orphaned Jack/Earnest find out who his parents were even though he lives in a country estate, has a townhouse and no unpaid bills. Implied by this story is the idea that it's acceptable to be penniless if you know how to sponge off other people, which is what Algernon does. It's all tongue-in-cheek, of course, and makes fun of the phoniness and shallowness of the upper class.
Absolutely free of foul language, violence and sex, "Earnest" has some slightly sensual material. A painting of a nude woman appears briefly, and Gwendolen has the name "Earnest" tattooed on her posterior. Later, Jack has her name tattooed on his. Only the name is shown, but it is shocking that a genteel young lady of that era would even consider a tattoo. Witty dialogue and positive lessons without objectionable material earn the Dove Seal for "The Importance of Being Earnest."