Music for Babies: Peaceful Baby (CD)
Theatrical Release:
June 10, 2002
DVD Release:
June 10, 2002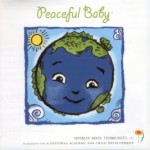 Synopsis
ABT's "Music for Babies" helps infants and toddlers achieve their extraordinary, and unique, potential.
This is a music CD not a video. There are a series of 4 "Music for Babies" CDs. They give children an early start in their life's journey. It nurtures a universal wish for health for all children by giving them a melody of calm and relaxed alertness which resonates throughout the body, mind and soul. Created in collaboration with the National Academy for Child Development (NACD), the series is based on the latest discoveries regarding brain development in very young children.
Every selection is specially arranged to benefit young minds; they feature harp, celeste, violin, viola, cello, clarinet, and flute. The series includes classical and traditional folk music, as well as instrumental versions of well known lullabies and nursery rhymes.
These richly resonant acoustic recordings are masterfully played by the award-winning musicians of The Arcangelos Chamber Ensamble
Dove Review
This CD is a very soothing collection of music that will easily calm your newborn or your older sons and daughters. The songs on this disc are peaceful renditions of lullabies and nursery rhymes. This is a perfect way to get your baby to sleep or to calm him or her down.