Musicland Band: We Stick Together Like Glue
Theatrical Release:
June 11, 2002
DVD Release:
June 11, 2002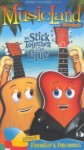 Synopsis
Gil the guitar and Eddy Electric were the best of friends; they grew up together. But will their friendship survive Eddy's newfound fortune and fame?
Watch an ordinary day turn into a wild escapade as one "missed-understanding" sends Gil on a hilarious plight to be noticed. And does he get noticed! After getting way more attention than he bargained for, Gil finally discovers the blessing of friendship and forgiveness.
Packed with 8 original "chartbusting" songs, each in different musical styles, including Surf, Broadway, Rock and Roll and a little bit o' Country. You'll sing, tap your toes, laugh, and maybe even cry as you watch this comical and inspiring story that is sure to strike a chord in every heart.
Dove Review
This is a perfect video for kids and adults of all ages. If you are into the "Veggie Tales" scene, this videocassette will make the perfect addition to your video library. The songs are captivating and easily tie into the story. It is a wonderful cartoon musical for people of all ages. There are great lessons about forgiveness, friendship, being yourself, and trust that are presented with style and humor.
Gil the guitar and Eddy Electric had grown up together, and then Eddy went away and became famous. One missed phone call sends Gil into a frenzy that poses to sever the relationship between not only he and his best friend, but with everyone in the town. This is a great way to teach children crucial lessons in a very fun, comfortable atmosphere. Touch Studios has also put the soundtrack of this video onto a CD.