Jericho
Theatrical Release:
April 20, 2001
DVD Release:
April 20, 2001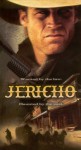 Synopsis
Jericho is a man haunted by a past he can't remember. His nearly lifeless body is discovered by Joshua, a former slave and cowboy-preacher, who nurses him back to health and becomes his trail companion, even though he suspects Jericho is wanted for a payroll robbery and the murder of a sheriff. They join a cattle drive, prospect for gold and eventually homestead a small ranch, but they seem to be stalked by violence and death. At the end of the story, Jericho is drawn back to the mountain town which holds the secret of his identity and the past that has eluded him for seven years.
Dove Review
Even though Joshua suspects the possibility of Jericho having committed crimes, he heals him and befriends him, and believes he is a good man. They encounter many hardships and difficulties in their travels together, but remain fast friends. Jericho does not believe he could have committed a robbery or a murder, and is determined to find his identity as he has occasional brief glimpses of his past life.
Content Description
Sex:
There is some sexual activity implied with cowboys visiting "ladies" in the saloons, but nothing overt.
Info
Company:
Monarch Home Entertainment
Writer:
Robert Avard Mill and Frank Dana Frankolino
Producer:
Merlin Miller and Gil Dorland
Reviewer:
carol verbrugge