Diary of a City Priest
Theatrical Release:
July 15, 2002
DVD Release:
July 15, 2002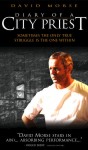 Synopsis
"Diary of a City Priest" is a powerful, moving drama based on the book of the same name by Father John McNamee, an inner-city priest at St. Malachy's parish in Philadelphia, located in one of the city's toughest neighborhoods. It is done in narrative form by the priest who is the main character in the story. He is faced with many problems in his parish – poverty, gangs, theft, and hunger. He helps a young man obtain a college scholarship, bails out another from night court, and hands out food to those who come to the rectory every evening. He must also make many decisions regarding the day-to-day operation of the church.
Dove Review
Although Fr. McNamee is at times frustrated and discouraged, he never really loses hope. He continues to help those who come to him for help, giving of himself, and being willing to make sacrifices. It is an ongoing emotional and spiritual struggle, but one does not get the impression that he wants to give up. As tired as he becomes, he faces each day and each situation with a willingness to help those in need. This is a serious, heart-warming story about a man who is willing to devote his life to his commitment as a priest. A wonderful film!
Info
Company:
City Story Pictures
Producer:
Ed Givnish
, Lisa Rosenstein and Kate Wilson
Industry Rating:
Not Rated
Reviewer:
Carol Verbrugge