You are a Masterpiece
Theatrical Release:
July 18, 2002
DVD Release:
July 18, 2002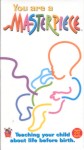 Synopsis
"You are a Masterpiece" is all about a child's "first home" – his/her mother's womb. The ideas of conception and birth are explained in a simple manner which is understandable for young children. Proper terms, such as womb, embryo, and uterus are used and explained. Drawings are used and children are asked to repeat the terms after they understand their meanings. The stages of pregnancy are particularly well explained by using comparisons of the size of the embryo to the size of something the children are familiar with.
Dove Review
There is nothing objectionable about this subject because it is so well done. The subject of sex is not mentioned; therefore there is nothing in the video that might be objectionable to some parents. It is an excellent teaching tool for young children to be used in the home, allowing parents to offer further explanation if desired, and answer any questions their child might have.